​​​​In Time for Playdate, New Drops from Blood+Bone Kids
roy_putra
After some turbulent times we've had in the last couple of years, we at Blood+Bone understand that everyone needs a little joy to celebrate.
For the little ones, that joy might be a moment to play and socialise with their peers. For that reason, Blood+Bone Kids presents our latest drop to bring back the smiles to the little ones.
Our latest drops are inspired by the joy of a playdate. This collection features the mini-me versions of the Blood+Bone original design, including the summer-inspired artworks, with a bright colour palette and strong stretchability. We have various styles for the new arrivals, including matching sets, unisex attire, playsuits, dresses, and girl tops that won't go out of style.
Get fashionable kidswear that puts forward comfort and durability for a playdate. Tummy Ache Muscle might be the perfect fit for that. Our unisex muscle now comes in pink acid to complement the black acid. The design and the artwork are inspired by our Comedown Collection from Blood+Bone Summer 21 Collection. However, this one is designed specifically for the kids.
I Scream Playsuit is the quintessential outfit from our latest drops. It's an ideal playdate attire in a lightweight woven fabric with adjustable straps. The playsuit is made of a rayon fabrication in a vintage wash to make sure that our active children stay comfortable throughout any activities, in any weather.
Next up, we've got matching outfits for parents and kids from our new drops to style your mini-me moments and enhance your magical bond.
Splish Splash Top is the mini-me version of Magma Top from Blood+Bone Summer 21 Collection for Women. This top, coming in baby pink, is available for girls aged 1 to 8. This button-through crop top is made of a cotton fabrication with double-layer styling. Pair Splish Splash Top with Itsy Bitsy Shorts to bring out a merrier summer vibe. The top's baby pink colour complements the shorts' tropical all-over prints.
Mom's can also go twinning with their little girls with Daisy Chain Dress. This little dress is a mini version of Blood+Bone's Love Spreads Dress. The great news is both come in lemon colour with double layer design on shoulders and bow lace-up styling on the back. Daisy Chain Dress for the little one is made of cotton for more flexibility and stretchability.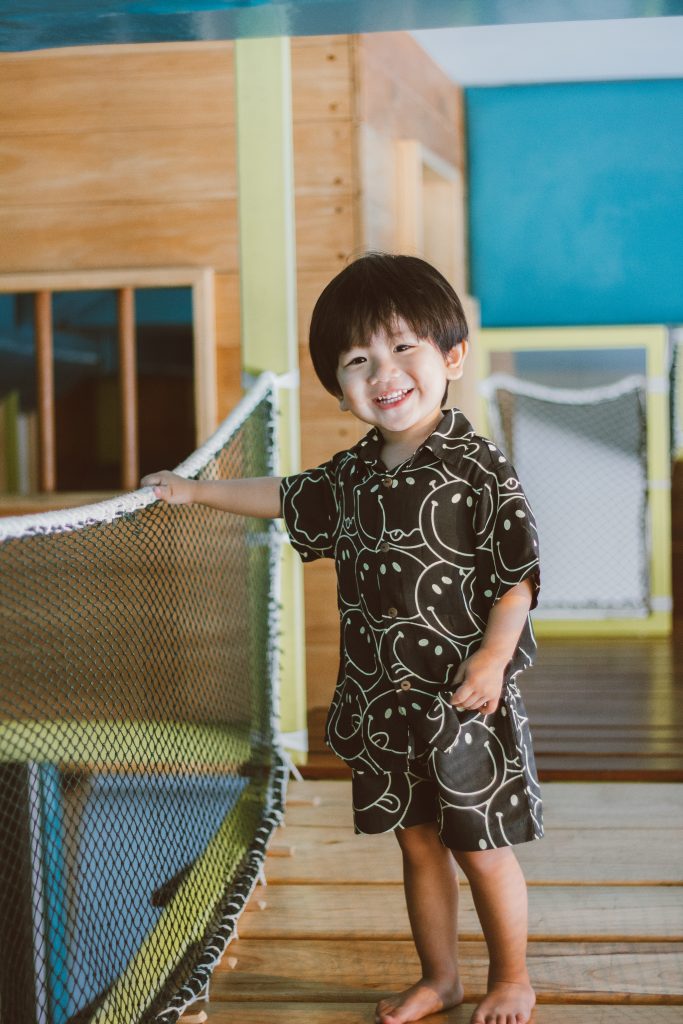 Not to be left out, Dads can find matching outfits with their little boys, too. Smiley Set, featuring Smiley Shirt and Smiley Shorts from the latest Blood+Bone Kids collection, is a version of K-Club Set, but for kids. With a rayon shirt and elastic cotton shorts in black with smiley faces printed all over, this set looks cheeky and stylish at the same time.
Our new arrival also features matching sets for boys and girls. While designed separately for him and her, these matching outfits share the same summer-inspired patterns printed all over.
Easy Peasy Set for boys pairs together Easy Peasy Shirt and Easy Peasy Shorts. The shirt is made of 100% rayon in a super-soft wash; meanwhile, the shorts are made of elastic cotton with a shoestring drawcord. The matching palm tree artwork printed all over makes the black-and-pink contrast shine.
Itsy Bitsy Set for girls puts together Itsy Bitsy Top with the versatile Itsy Bitsy Shorts. The silhouette top is made of rayon with a button-through design and adjustable straps. The shorts, made of cotton, are highly elastic and adjustable with a shoestring drawcord, too. The set shares the same all-over printed artwork as the Easy Peasy Set.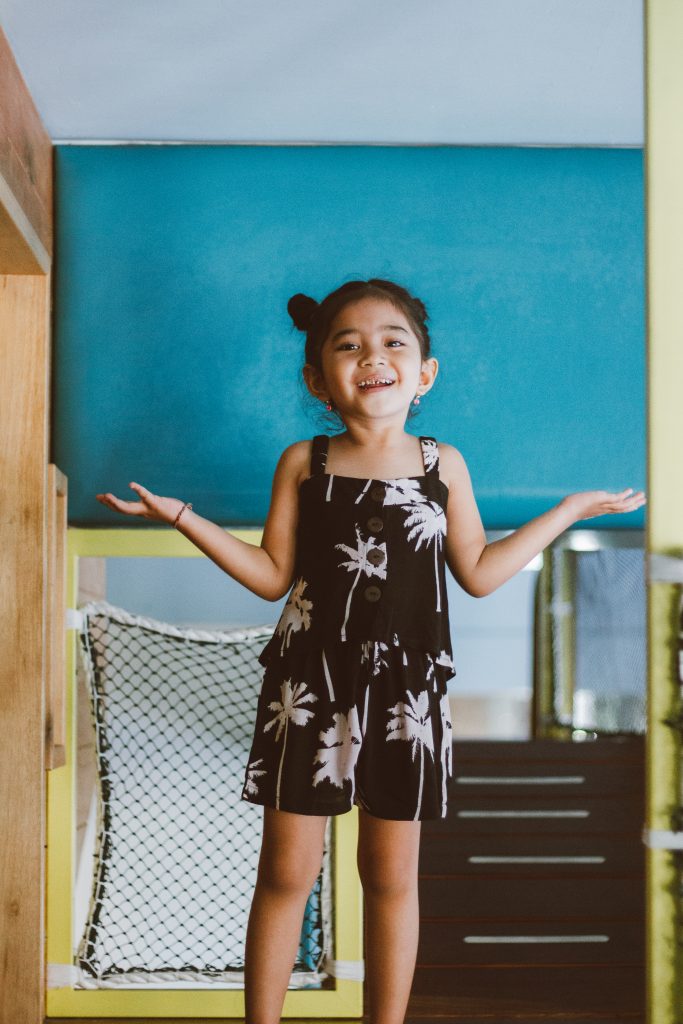 With the new drops from Blood+Bone Kids, we hope to bring you more joy for those special playdates. As you treat your little ones with fashionable kidswear for their playdates, we will share the joy with children in need around Bali through The Gift that Keeps on Giving program. We will donate 5% of Blood+Bone Kids purchases through Relawan Sosial & Pendidikan, a local non-profit organization dedicated to education & social welfare.